Getting Started with IrTrek
General Layout
The IrTek window has 4 buttons on the left side that re-define the other buttons and list boxes.
We will refer to these four buttons as:

Script-Sequencer
Configuration
Remote-Control
IrTek

The first thing we want to do is establish communcation with the IrTek device.
Click the IrTek button.
IrTek Layout
First use the four circled buttons to setup the form of communication the IrTek is connected by.
Click the Connect, if you see the the <irtekN ver.1.XX> in the text box, you good IrTek communication.
This text box is blue if a valid socket or serial connection is open, red otherwise.
With good IrTek communication, click the Remote-Control button.
Remote Control Layout
Select the remote you need on the right list
Click Set Active Remote
You should now be able to use the interactive button on the right to control the settop.
Now click the Configuration button.
Configuration Layout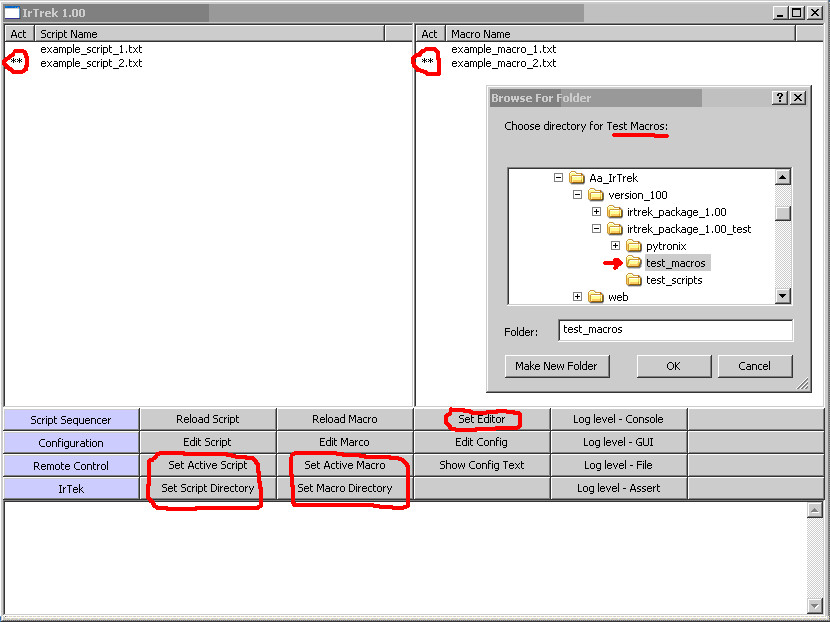 Click the Set Script Directoy and set it to the test_scripts location
Select a script on the left list an click Set Active Script
Click the Set Macro Directoy and set it to the test_macros location
Select a macro on the right list an click Set Active Macro
Click the Set Editor and set it to your editor executable.

Windows note: notepad.exe is so brain dead that it will not even convert linux text file newlines into actual lines.
We recomend the free PS Pad for Windows.
Now click the Script-Sequencer button.
Script Sequencer
Click Begin Script or Turn Sequencer On to start the script.
Test Script
Script Commands
Macros
The Sequencer will first try to find a Macro command in the Macro file.
The flow then moves to the Macro file, runs the Macro, then back to the main Script file.
Format for the Macros:

MACRO <name of macro>
<body of macro>
END_MACRO
Aliases
Ir command scripts generally have different names for the codes.
For example, 7 instead of key7.
We support this on the IrTrek IR Command Alias page